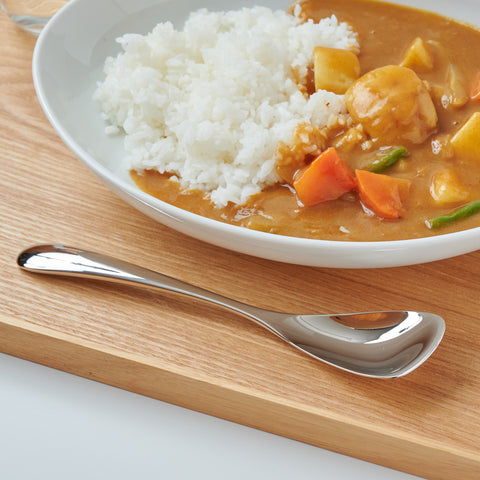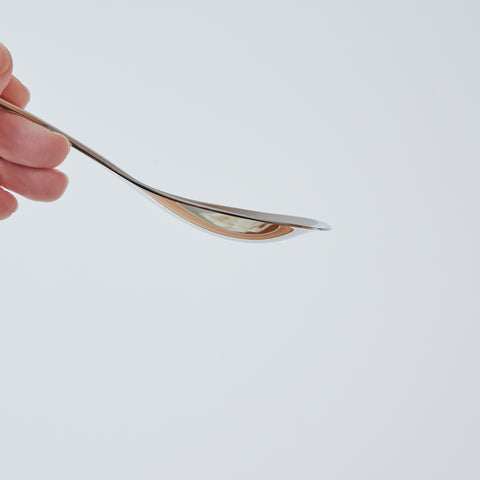 HIDARI|A joyful left-handed life
Spoon for curry & rice, left-handed
A spoon made out of love for curry
Japanese-style curry and rice is a very popular dish in Japan. Many Japanese eat curry both in restaurants and at home.

This spoon was made for curry and rice by a cutlery manufacturer in Tsubame, Japan.

They developed this spoon after hearing from curry specialty restaurant owners and curry fans.
Of course, we believe it can also be used conveniently for other dishes (stew, fried rice, etc.).
Functional head shape suitable for left hand
The spatula-like tip allows you to cut large potatoes, well-cooked meat, and other ingredients.

The concave part is very intricately shaped, allowing you to smoothly pour soup into your mouth.
Very smooth and beautiful finish
The material is high-grade stainless steel, which is rust-resistant and durable. It is polished very beautifully by highly skilled craftsmen.

Specification
Size (mm):
L198 W38 (max)

Material:
Stainless

Country of origin:
Japan
Delivered to You from Japan
We've been a trusted specialty store for left-handers in Japan since 2018. We ship top-quality tools to our left-handed friends all over the world.