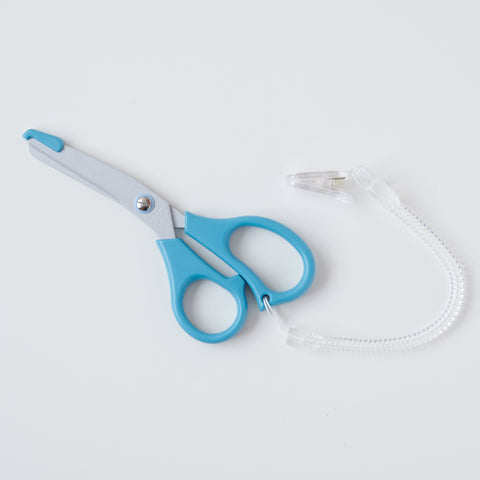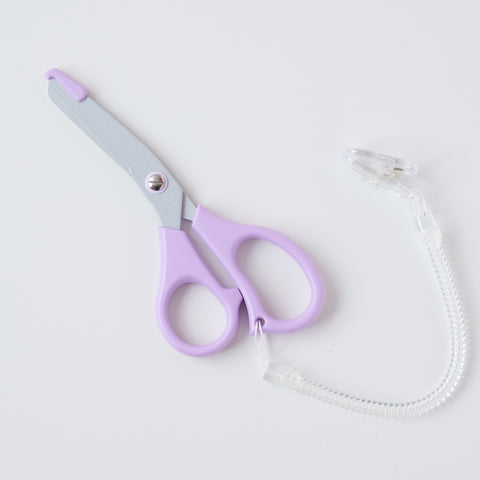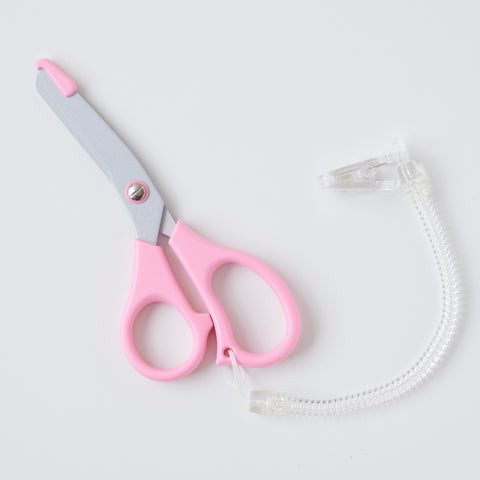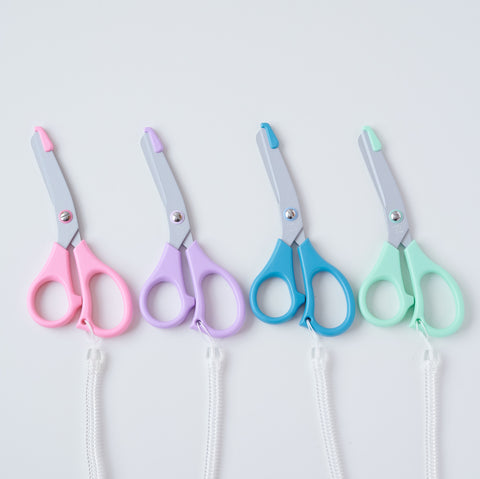 HIDARI
Nursing Scissors with a strap, left-handed
Nursing scissors for left-handed people
These scissors with a detachable strap are commonly used by nurses in Japanese hospitals. Nurses keep these scissors close at hand in their shirt pockets and use them throughout the day to cut bandages, tape, wristbands, documents, and many other things.
These left-handed nursing scissors are so handy that even those that are not medical practitioners will find them useful at work or home.
Blade guard and round tip for safety
The safety guard attached to the tip of the blade prevents the blade from directly touching the skin of patients when cutting bandages or wristbands. (the guard cannot be removed) 
The tips of the blades are rounded for safety and in order to avoid damaging the user's shirt pocket or bag.
At only 14.5 cm (5.7 in.) in length, they easily fit in a shirt pocket. Their compact size and safety features make them suitable for children to use.
Comes with a strap to prevent falling
These scissors come with a coiled resin strap that can be clipped to a pocket to prevent them from falling. The strap is roughly 15 cm (6 in.) in length and can extend up to about 30 cm (12 in.).
The strap is removable, so you can take it off when not needed, or you can swap to a different strap (e.g. a neck strap) as long as it fits through the hole on the handle.
Fluorine-coated blade to prevent stickiness
The blades are fluorine coated, which prevents bandage and tape residue from adhering to the blade surface.
The blades are slightly angled to make it easier to cut bandages and wrist bands without gouging the skin.
Four colors are available
There are four color options: mint green, blue, purple and pink. Perfect to stylishly coordinate with pens, watches, and other accessories you carry with you.
Made in Seki
This product is made in Seki City, Japan, known as a world-class production center of cutlery.
Specification
Size (cm):
L 14.5
Material:
Stainless steel (blade), ABS resin (handle), PC・EVA (strap, clip)
Country of origin:
Japan
Delivered to You from Japan
We've been a trusted specialty store for left-handers in Japan since 2018. We ship top-quality tools to our left-handed friends all over the world.