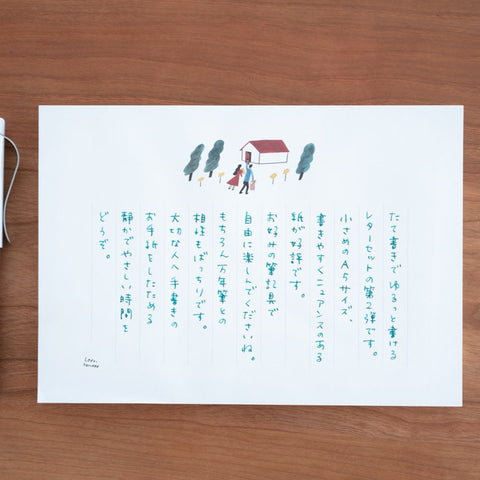 HIDARI|A joyful left-handed life
Vertical letter writing set (Home)
Vertical writing is convenient for left-handers
In the past, Japanese sentences were written vertically. Today, horizontal writing has become the norm, and vertical writing is less common.

That is why letter sets with vertical writing are often old-fashioned in design. That is unfortunate, because vertical writing is very convenient for left-handed people. (Because your hands don't get dirty when you write.)

So we created a vertical letter set with a modern and casual design. Why don't you try vertical writing!

Illustration of house in the forest
They are printed with illustrations of house in the forest, by Ayano Usamura, Japanese illustrator.

If you look closely, you will see that the man is opening the door with his left hand.
Specifications
The set includes:
3 envelopes, 10 sheets of writing paper
Size (mm):
Paper (A5) 148×210, envelope 162×114

Country of origin:
JAPAN
Delivered to You from Japan
We've been a trusted specialty store for left-handers in Japan since 2018. We ship top-quality tools to our left-handed friends all over the world.