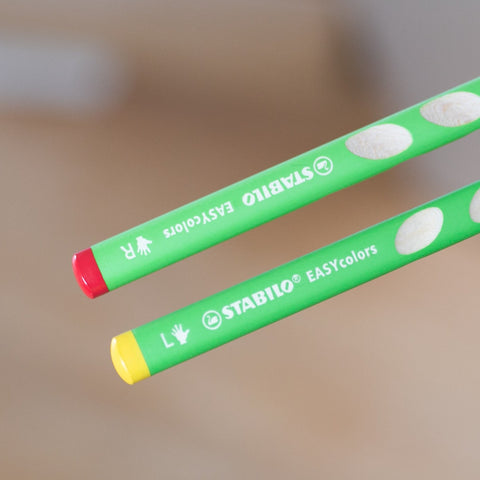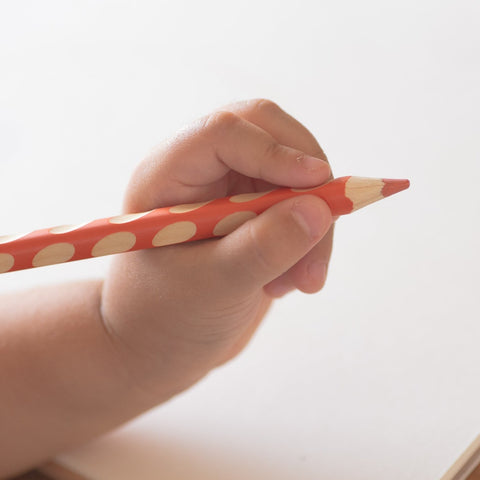 HIDARI
STABILO EASYcolors (6colors), left-handed
Colored pencils that stabilize your grip
These colored pencils are made by STABILO, a German brand specializing in writing and drawing utensils .
As one of the products in STABILO's "EASY Start" lineup, these colored pencils are designed for kids to learn to write, ergonomically designed to prevent slipping and fatigue even after long hours of creativity.
Fun pencil grip training
These pencils feature a triangular design with grip mouldings carved at 30-degree angles, facilitating the thumb, index and middle fingers to hold just the right position and stabilizing hand posture.
Designed in a way that kids can naturally learn correct hand posture with a relaxed grip. Using these pencils will help them write and draw better with less fatigue and frustration.
Adults can also enjoy these beautiful pencils. Because the lead is thick (4.2 mm / 0.16in. in diameter) , they might not be suitable for drawing delicate pictures.
Simple design
The end of each pencil barrel is painted in yellow with a hand emblem and the letter "L" to indicate left-handed use (Red and "R" for right-handed). There is also a space for imprinting the owner's name.
About STABILO
STABILO is a German stationery manufacturer with over 150 years of experience. Their products are recognizable by their iconic swan logo. They have created many innovative writing instruments, including BOSS, the world's first fluorescent pen.
Delivered to You from Japan
We've been a trusted specialty store for left-handers in Japan since 2018. We ship top-quality tools to our left-handed friends all over the world.