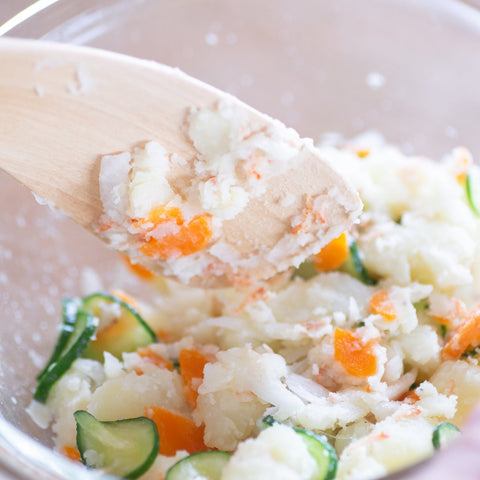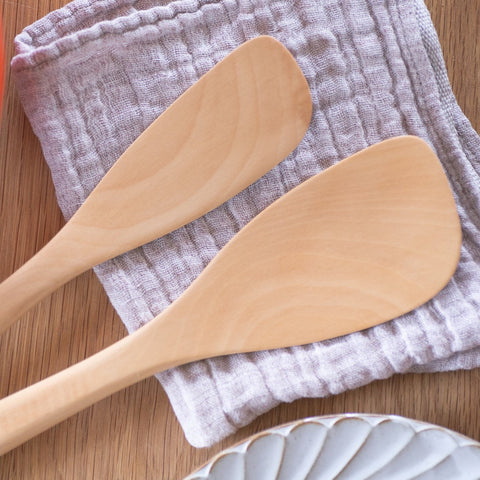 HIDARI
Boxwood spatula (medium size), left-handed
Curved and shaped to fit pots
This slightly curved spatula is convenient not only for stirring but also for spooning food from one dish to another. The tip is shaped for the use of left-handed people and perfectly fits the edges of pots and pans. Because the tip is thin and flat, it is also useful to flip things like pancakes over.
Polyurethane coated finish
This spatula is coated with a heat-resistant polyurethane which is resistant to stains and scratches.
Because this spatula is made of natural boxwood, please understand that the color and grain of each item is different, and there might be small irregularities in the surface or coloring. 
Not suitable for dishwashers or mechanical dryers.
Two sizes for different uses
The total length of both sizes is 29 cm, but the width of the medium size is 6.5 cm, and the small size measures 4.5 cm across the top.
The medium size is good for use with stir-frying pans, larger pots and bowls.
The small size is suitable for making side dishes and pastries.
Fair trade products from Myanmar
Designed by Asia Craft Link, a Japanese non-profit organization. These are fair trade products made in Myanmar.
Specifications
Size (cm):
L29 W 6.5 
Material:
Boxwood tree (polyurethane coated)

Country of origin:
Myanmar
Care:
Hand wash only
Delivered to You from Japan
We've been a trusted specialty store for left-handers in Japan since 2018. We ship top-quality tools to our left-handed friends all over the world.