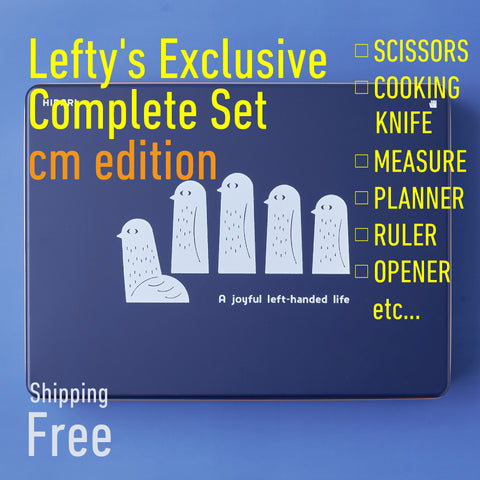 HIDARI|A joyful left-handed life
Lefty's Exclusive Complete Set (cm edition) [FREE SHIPPING]
Special Set for Left-Handers
We've curated a special set of high-quality tools designed specifically for left-handers. From kitchenware to stationery, these tools designed to enhance your daily life are packed into a beautiful tin package.
It's perfect not only for personal use but also as a gift for a cherished left-handed loved one. It's sure to be a delightful surprise.
This set is assembled for customers who work with measurements in centimeters. For those who work with inches, please see this page.
What's Inside the Set
HIDARI Left-handed planner UNDATED
HIDARI Versatile Left-handed Can Opener
HIDARI Ruler 15cm, both left and right-handed
(all 4 colors)
HIDARI Ruler 30cm, both right and left-handed
HIDARI Universal measuring tape (cm), both left and right-handed
OLFA Utility knife, left-handed
ALLEX All-purpose scissors (large size), left-handed
BRUNNEN pencil sharpener, left-handed
Schneider Fountain pen "Base", left-handed

SUNCRAFT "MOKA" Small all purpose knife, left-handed
SUNCRAFT Nylon butter beater, left-handed
SUNCRAFT kitchen scissors, left-handed
Boxwood spatula (medium size), left-handed
Pullparrot 
waiter's friend, left-handed (Currently, this item is out of stock and will not be included in the set. The price has been adjusted accordingly.)
The color of the product may vary from the photos. We appreciate your understanding in advance.
Unique Tin Packaging
Our large tin package is crafted by a long-established Japanese manufacturer and features our original design.
The motif of five birds symbolizes the left hand. The design is the work of Masao Shirasawa, a Japanese designer with a Cannes Advertising Award to his credit.
After opening, we hope you enjoy using it as a sewing box, for storing stationery, or even as a secret treasure chest.

Free Shipping
We offer free shipping from Japan. Enjoy this special set!
Delivered to You from Japan
We've been a trusted specialty store for left-handers in Japan since 2018. We ship top-quality tools to our left-handed friends all over the world.