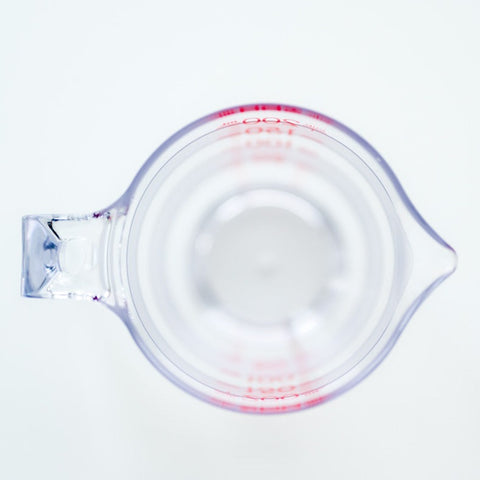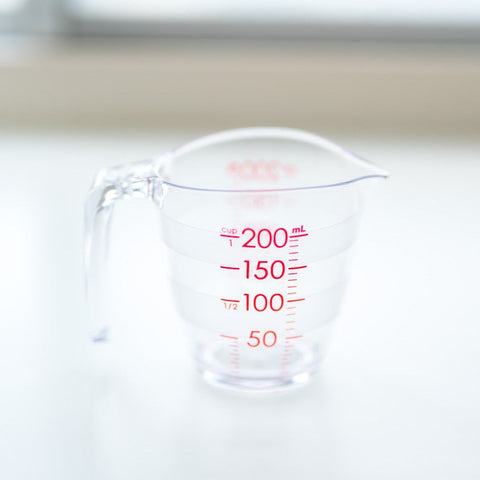 HIDARI
Measuring cup 200 ml, both left and right-handed
Easy to use for both left and right-handers
In life, left-handers sometimes encounter disappointing measuring cups whose measurements are on the wrong side when held with the left hand.
We recommend this nice measuring cup, which is easy to use for both left and right-handed people.
It can hold up to 200 ml. If you need something larger, a 500 ml model is also available.
Scales on both sides, with measuring bands encircling the cup 
The numerical scale is printed on both sides of the cup so that it faces toward the user no matter which hand the cup is held in.
The large and bold numbers are easy to read for kids and the elderly as well.
The most unique and innovative part of this product is the frosted matte measuring bands that go around the entire cup, which allow for more accurate and precise readings from every angle. 
Easy to pour, with little dripping
The spout is thin at the tip, making it easy to pour and prevents dripping. Its triangle-shaped grip is ergonomically designed to fit securely in the hand.
Crack-resistant resin, microwave and dishwasher-safe
Made of crack-resistant resin and is extremely lightweight.
Microwave safe and can handle boiled liquids, too. Not for use in the oven.
Easy to wash
The internal bottom edge is rounded off for easy washing. When placed upside down after washing, the spout will let the air go through and dries the inside of the cup quickly. 
There is a hole at a convenient point at the top of the handle for those who wish to hang it on a hook for storage.
Specification
Size (mm):
L116 W86 H78
Material:
Saturated polyester resin (heatproof temp.100℃.)
Care:
Dishwasher, microwave safe
Country of origin:
Japan
Delivered to You from Japan
We've been a trusted specialty store for left-handers in Japan since 2018. We ship top-quality tools to our left-handed friends all over the world.