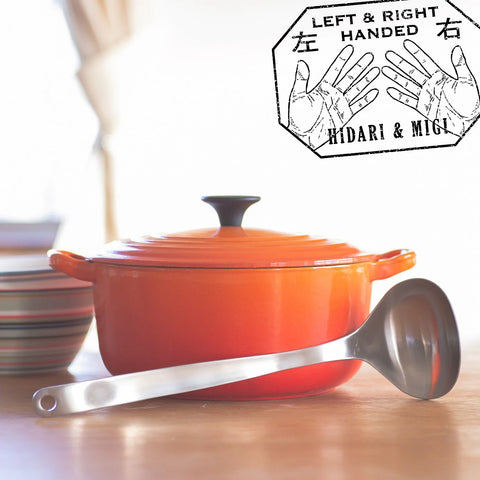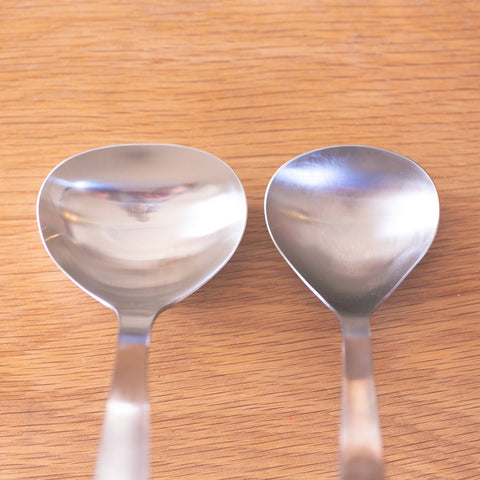 HIDARI
Sori Yanagi Soup ladle (medium size), both left and right-handed
Easy to pour with either hand
This soup ladle is made by internationally acclaimed Japanese product designer Sori Yanagi. His work is in the permanent collections of the MoMA and the Louvre.
When you see this ladle from above, you will notice that the bowl has a unique shape like a rounded ginkgo leaf. This exquisitely designed symmetrical curve allows both left- and right-handers to pour soup into a bowl without dripping. The handle is slightly curved to provide a more stable grip.
Easy to hold, clean, and store
Because the bowl is not very deep, this ladle can be neatly stored in a drawer or on a utensil stand. You can also present its beautiful sleek form on your wall by suspending it from the hole in its handle.
Made of durable 18-8 stainless steel, and its seamless design makes it easy to clean. Even after years of use, scratches will not be noticeable and it will maintain its beautiful appearance.
Two sizes available
We have both small and medium sizes, useful in a variety of scenes in your daily cooking at home.
The small one has a shorter handle and holds up to approximately 40 ml (1.4 oz), suitable for small pots. The medium size has a capacity of approximately 60 ml (2 oz), and its long handle works great with deeper pots and pans.
Specification
Size (cm):
L28.8 W8.6

Material:
18-8 Stainless

Weight:
132.0 g

Care:
Dishwasher safe
Country of origin:
Japan
Delivered to You from Japan
We've been a trusted specialty store for left-handers in Japan since 2018. We ship top-quality tools to our left-handed friends all over the world.