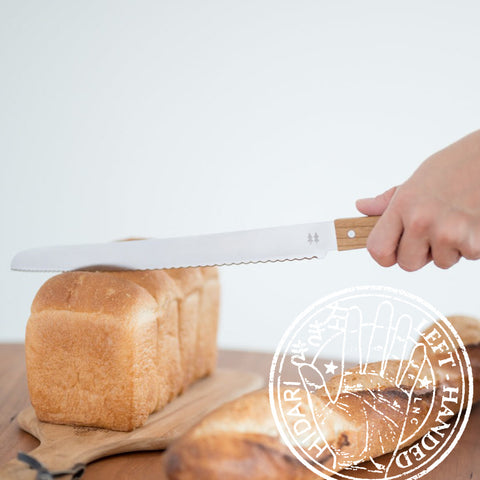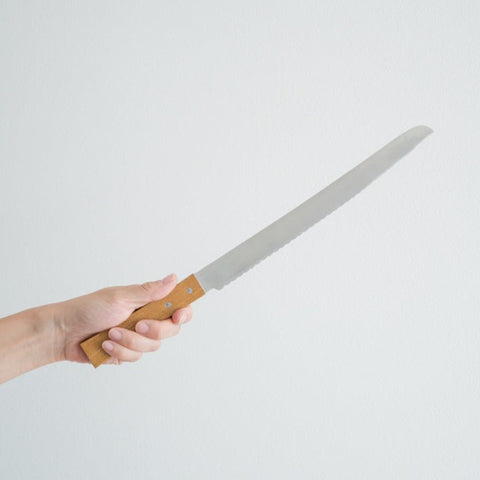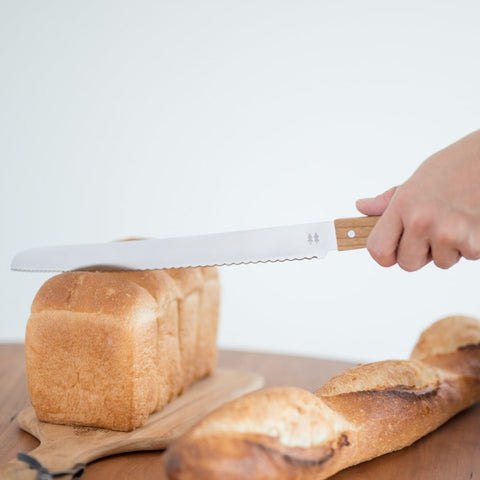 HIDARI
MORINOKI Bread knife by SHIZU HAMONO, left-handed
Left-handed bread knife
A left-handed bread knife with a nice simple wood handle.
It has serrations on the right side of the blade for cutting bread cleanly without crushing the texture of the bread. It produces fewer crumbs and improves the mouthfeel and taste of your bread.
This knife cuts both hard and soft breads smoothly by varying the blade's serration cadence along its length. The tip of the blade has smaller waves, suitable for cutting hard breads or crusts. The center of the blade has wider waves, optimized for cutting softer breads. When you cut a baguette, for example, we recommend you start with the tip to cut the hard crust, and then slide to the center for cutting the softer part.  
For best results, it is important to cut with a saw-like motion without putting too much pressure on the bread.
Useful for cutting a variety of foods 
In addition to cutting bread, this knife is also recommended for cutting sandwiches, cakes, and other soft foods.
Handle made of exotic natural wood
The wooden handle is made of solid zelkova wood. Because it is made from natural wood, the grain and color of each piece is unique.
The blade is made of stainless steel. Please wash with detergent and wipe dry after use to avoid rusting. 
Not suitable for dishwashers or mechanical dryers.
About Shizu Hamono
Shizu Hamono is a cutlery manufacturer founded in 1980 in Seki City, Gifu, a city famous for its cutlery industry. They mainly produce household kitchen knives of excellent design.
Specification
Size (mm):
L370 (total), 240 (blade)
Material:
Stainless (blade), Japanese zelkova tree (handle)
Weight:
75.0 g
Country of origin:
Japan
Delivered to You from Japan
We've been a trusted specialty store for left-handers in Japan since 2018. We ship top-quality tools to our left-handed friends all over the world.