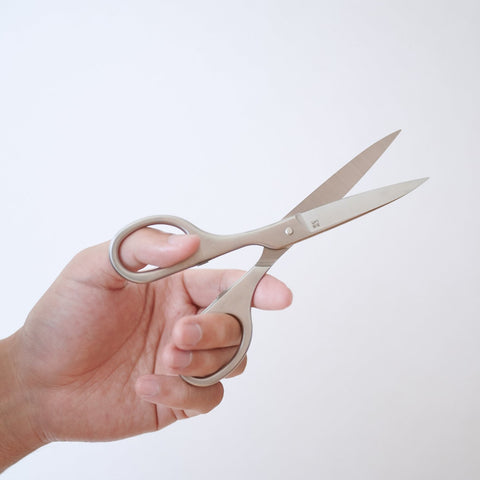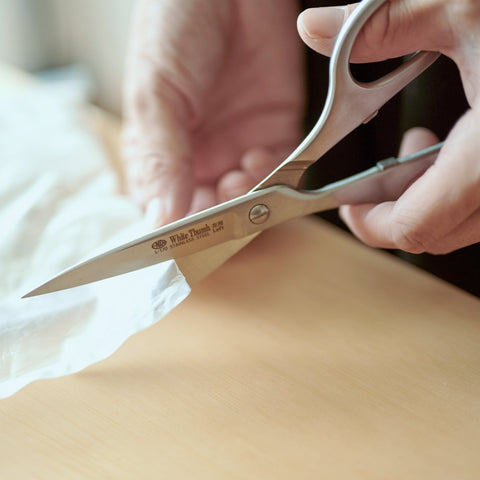 HIDARI
White Thumb kitchen scissors, left-handed
Left-Handed kitchen scissors for professionals
These scissors are made by Endo Takashi Shoten, a Japanese manufacturer of professional confectionery tools.
Cutting food with scissors usually requires more effort than cutting paper. Using a good pair of left-handed kitchen scissors will make your cooking more efficient and enjoyable.
Made of high-quality stainless steel
Made of easy-to-clean, durable stainless steel, these scissors are made for professional use, but you can also enjoy their high-quality at home, too.
The handles are seamless, making it easy to wash and keep clean. After washing, wipe thoroughly with water and store in a dry place.
Safe to put in a dishwasher or mechanical dryer, but you cannot disassemble the scissors for cleaning.
Moderate size 
The overall length is 17 cm (6.7 in.) and the blade length is 7 cm (2.7 in.). The handles might be a little tight for those with large hands.
The pointed tip of the blade will be useful for delicate work such as decorating confectionaries.
The round handles have a smooth touch and fit gently in the hand.
Specification
Length (mm):
Total: 170, Blade: 70
Weight:
87.0 g
Material:
Stainless steel

Care:
Dishwasher safe
Country of origin:
Japan


About White Thumb
White Thumb is a brand from Endo Takashi Shoten of Japan, a manufacturer of kitchenware and confectionery tools. The company is located in Tsubame City, Japan, a famous kitchenware manufacturing region in Japan.
Delivered to You from Japan
We've been a trusted specialty store for left-handers in Japan since 2018. We ship top-quality tools to our left-handed friends all over the world.