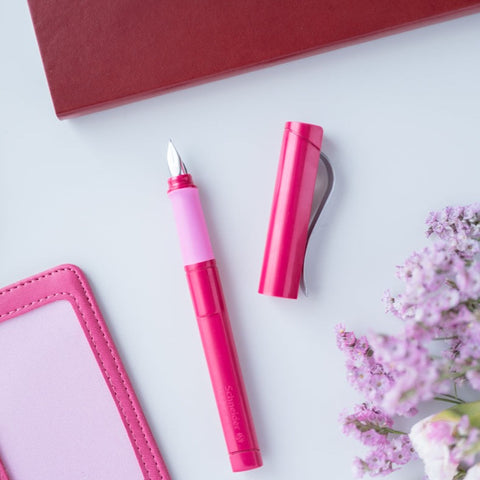 HIDARI
Schneider Base fountain pen, left-handed
Fountain pen for left-handed people
Left-handed Base fountain pen from German stationery brand Schneider.
The nib is formed in the opposite direction from a right-handed one so that left-handed users can write smoothly without smudging or the nib getting stuck.
Because the tip of the nib is made of iridium, a highly durable metal, it can withstand strong writing pressure.
The line weight is about the same as that of a standard M (medium) nib.
Simple design, available in 8 colors
As this product's name implies, "Base" is a basic, simply designed fountain pen perfect for daily use.
It is available in a total of 8 colors: black, arctic blue, white, taupe, mint green, rose, pink, and turquoise.
It would be nice to try different colors and keep one at home and the other at work. You can also match the color of ink with the color of the pen.
One ink cartridge included
One cartridge ink is included when you buy this pen, but the color of the included ink varies depending on which color of pen you buy. 
Black / Arctic Blue / White pen: Black ink
Taupe / mint green / rose / pink / turquoise pen: Blue ink
When you swap ink colors, make sure to clean the nib with water.
If you would like to purchase additional ink cartridges, please click here.
For those who prefer to use bottled ink, we also have converters available.
Specification
Length: 142 mm
Shaft diameter: 12 mm 
Weight:
18.0 g
Material:
Plastic, Iridium
Country of origin:
Germany
About Schneider
Schneider is a German writing instrument brand that has been in business for over 80 years. With the motto "Stationery for everyday use", Schneider has continued to develop and manufacture products only in Germany in order to guarantee their high quality.
Delivered to You from Japan
We've been a trusted specialty store for left-handers in Japan since 2018. We ship top-quality tools to our left-handed friends all over the world.