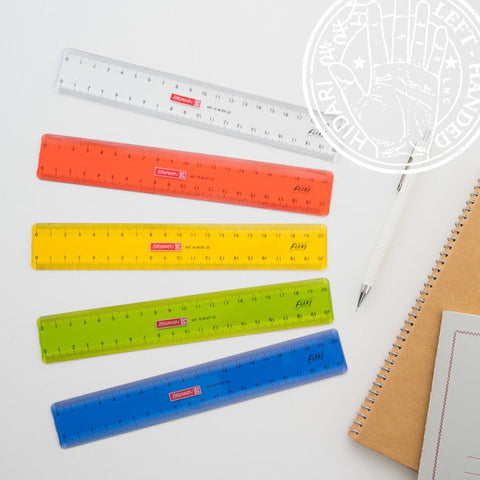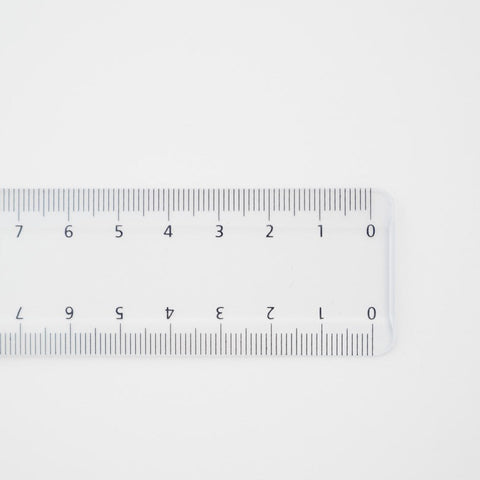 HIDARI
BRUNNEN Ruler "flexi" 20cm, both left and right-handed
Ruler with two scales, for left and right-handers
This 20 cm ruler by the German stationery manufacturer BRUNNEN has two scales, one at the top and the other at the bottom. Both left-handed and right-handed people can share this ruler.
Having scales on both sides is also very convenient when the length of an object can only be measured from a certain direction.
Soft, bendable material
This ruler is made of soft, bendable material. The material is not too soft or too firm.
It is useful in many situations, such as when drawing a line across a page, or when you want to measure the size of an object along its edge, and it's small enough to keep it in your shirt pocket.
Available in five colors 
The length is 20 cm, which fits perfectly in a pen case.
You can choose your favorite from five color options: red, yellow, green, blue, and clear. All colors are semi-transparent with a glossy texture.
It can be a nice little gift for left-handed kids and adults.
Specification
Size (cm):
L21, W3.3
Material:
Plastic
Country of origin:
Germany
About BRUNNEN
BRUNNEN is a well-established, market-leading stationery manufacturer in Germany, founded around the end of the 1800s. They specialize in stationeries and paper items for students and adults.
Delivered to You from Japan
We've been a trusted specialty store for left-handers in Japan since 2018. We ship top-quality tools to our left-handed friends all over the world.