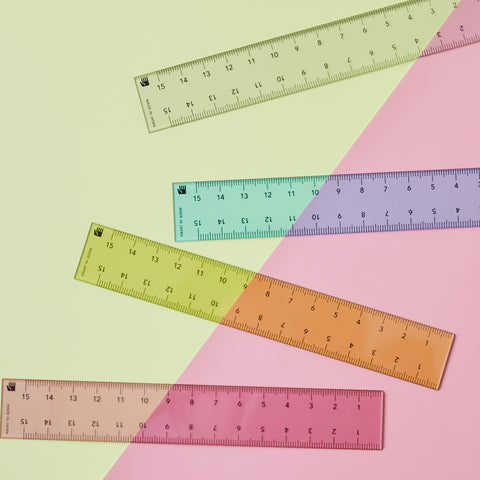 HIDARI
HIDARI Ruler 15cm, both left and right-handed
A ruler for everyone
This is an original product from our in-house brand "HIDARI".
The most distinctive feature of this ruler is that it has scales on both sides.
We tried to achieve a simple appearance and smooth  action for both left and right-handed users, which inspired this design. HIDARI original products are emblazoned with our logo mark, a left hand symbol, as seen on the side of the ruler.
The scale starts from the edge
Some rulers have a gap at the edge that can be inconvenient when measuring objects. HIDARI's ruler starts from the edge for better usability, and the font of the numbers is clear and easy to read.
Recycled material
Uses recycled PET, which is made primarily from recycled plastic bottles. With moderate pliability and high transparency, it is comparable to conventional acrylic rulers.
About HIDARI
HIDARI means "left" in Japanese. HIDARI is our original brand, brought to you from Japan. It is our mission to bring a joyful life to all left-handed people.
Specification
Size (mm):
L160 W25 H1.5
Material:
Recycled PET
Country of origin:
Japan
Delivered to You from Japan
We've been a trusted specialty store for left-handers in Japan since 2018. We ship top-quality tools to our left-handed friends all over the world.