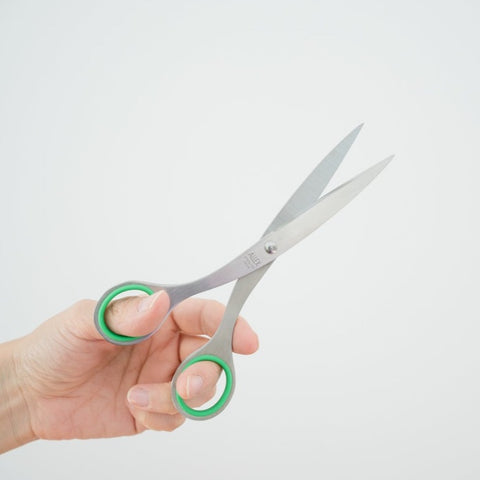 HIDARI
ALLEX All-purpose scissors (medium size), left-handed
Masterpiece scissors loved since 1975
Classic and simple left-handed scissors. Since the first scissors of this design were released in 1975, they have been loved worldwide for more than 40 years.
Allex scissors received the "GOOD DESIGN AWARD" in Japan, and some of their items  are in the permanent collection of the "Die Neue Sammlung", a design museum in Germany.
Made of rust-resistant and durable stainless steel
The blades are made of 2.5 mm-thick high-quality stainless steel, which is rust-resistant and durable. The flowing curves are carefully polished and finished.
The rings attached to the handles are made of elastomer resin to reduce stress on fingers.
The overall length is 16.5 cm (6.5 in.). They are large enough to be used easily for opening letters and for small daily tasks, but because the rings on the handles are a little small with a diameter of 25 mm (1 in.), they might be a little tight for those with thicker fingers.
Due to how sharp the edge of the blades are, we do not recommend this product for children.
Specification
Size: L16.5 cm (6.5 in.) × 6.1 cm (2.4 in.) × 0.7 cm (0.28 in.)
Weight: 53.5g
Material: Stainless steel (blades), Polypropylene resin (handles)
Country of origin: JAPAN
About ALLEX
ALLEX branded products are made by Hayashi Cutlery in Seki City, Japan. Seki is one of the three major cutlery production areas in the world.
Delivered to You from Japan
We've been a trusted specialty store for left-handers in Japan since 2018. We ship top-quality tools to our left-handed friends all over the world.