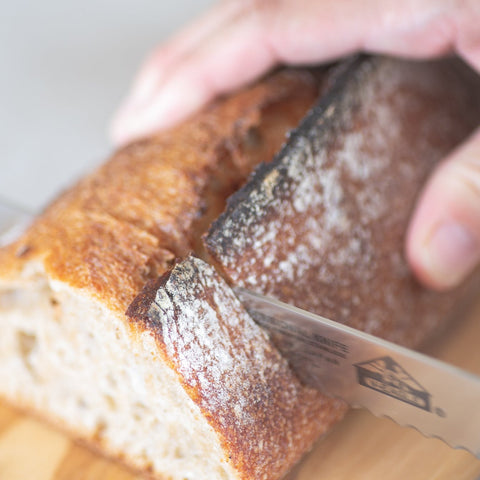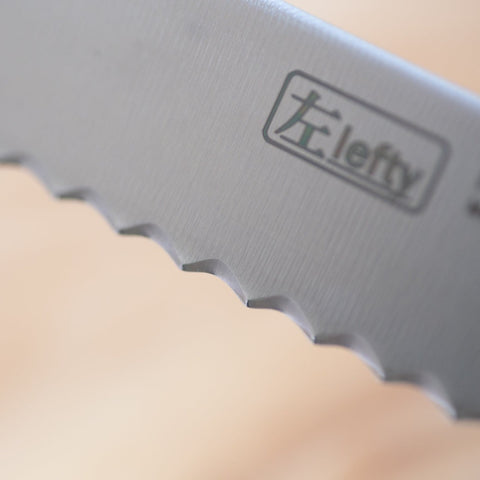 HIDARI
SHIMIZU HAMONO Bread knife, left-handed
Wave-blade bread knife designed for the left hand
Most bread knives have serrations on the left side of the blade for use by right-handed people. If you use a right-handed bread knife with your left hand, you may not be able to take full advantage of its cutting ability.
This SHIMIZU HAMONO bread knife is designed for left-handed users, with serrations on the right side of the blade for a clean and straight cut. It has a "lefty" mark printed on the blade.
You will enjoy slicing bread more with your dominant hand.
Fewer bread crumb
This bread knife cuts cleanly without crushing the bread's texture and also produces fewer crumbs. We recommend you cut with a saw-like motion going side-to-side without putting pressure on the bread.
Dishwasher-safe
The blade is made of stainless molybdenum steel, a common material for kitchen knives.
After use, wash with detergent and thoroughly wipe dry. The handle is made of heat-resistant material and can be used in a dishwasher.
In addition to bread and sandwiches, this knife also works great for cutting cakes, tomatoes, and other soft foods.
Seki, Japan, the town of cutlery
This knife is made in Seki City, Japan, which is one of the world's three major production areas of cutlery.
Specification
Length (mm):
380 (total), 225 (blade)
Material:
Stainless 41xx steel (blade), plastic (handle)
Country of origin:
Japan
Delivered to You from Japan
We've been a trusted specialty store for left-handers in Japan since 2018. We ship top-quality tools to our left-handed friends all over the world.