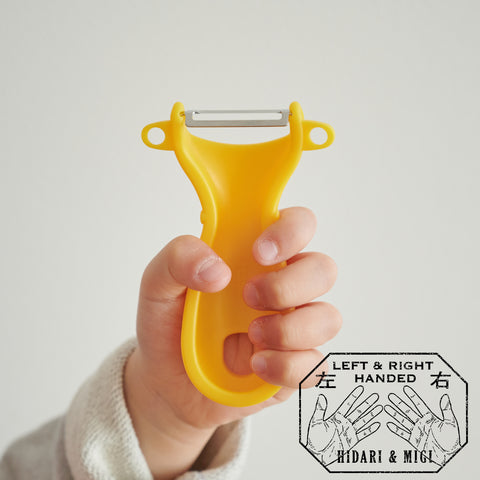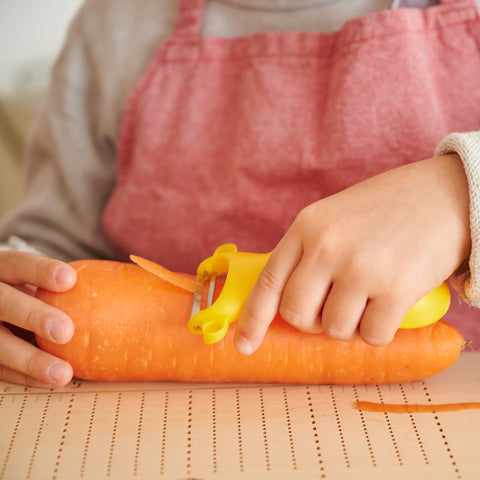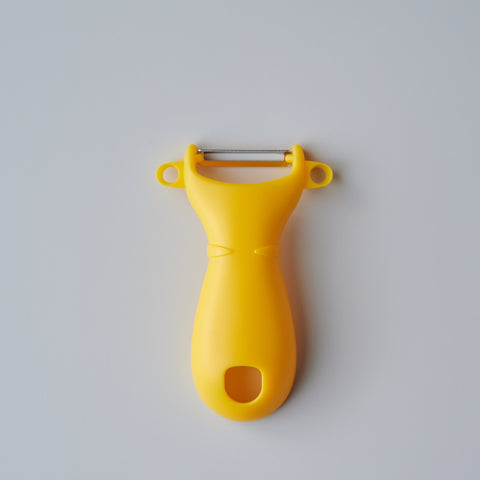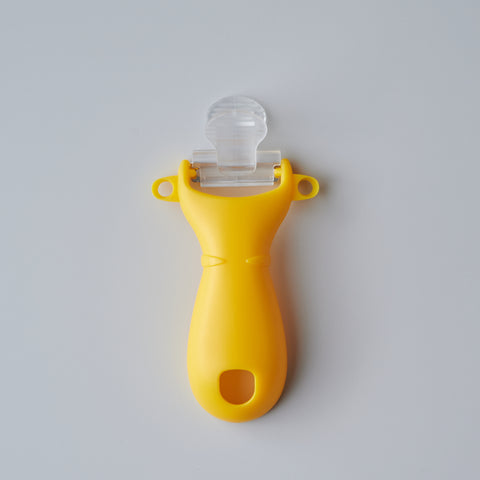 HIDARI
SUNCRAFT vegetable peeler for kids, both left and right-handed
Peeler designed for kids
The total length of this vegetable peeler is about 10 cm (4 in.), suitable for children between the ages of 4 and 10 years old.
The handle has a rounded shape that fits comfortably in a small hand. The symmetrical design makes it easy to peel with either the right or left hand. Little scoops (potato eye removers) are also attached on both sides.
Safe narrow blade
The most distinctive feature of this peeler is the width of the blade. At only 3 cm (1.2 in.) wide, the head is narrower than most food ingredients so it doesn't stick out and create a dangerous sharp surface that could lead to cuts normal peelers can.  
When storing or carrying around, please attach the detachable blade cover for safety.
Sharp and practical
Even though this peeler is for children, it is by no means a toy. It is a legitimately sharp kitchen cutlery tool.
Please make sure to teach your child how to use it safely and keep a close eye on him/her while peeling. Enjoy cooking with your kids!
Specification
Size (mm):
L107 W67 H24

Weight:
26.0 g
Material:
Blade:Stainless blade steel
Handle: polypropylene (heatproof temp. 90℃.)
Cover: EVA resin 
Country of origin:
Japan
Delivered to You from Japan
We've been a trusted specialty store for left-handers in Japan since 2018. We ship top-quality tools to our left-handed friends all over the world.