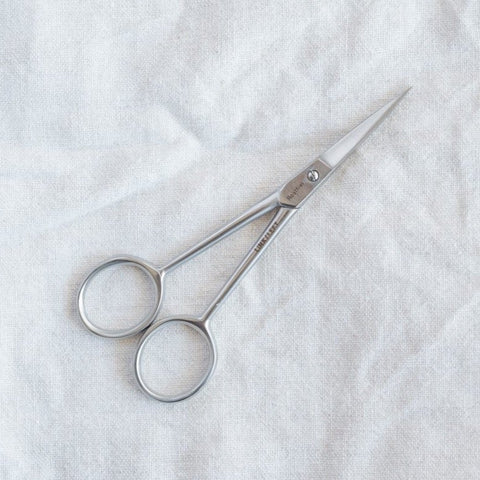 HIDARI
PAUL Silhouette scissors, left-handed
Left-handed, scissors for cutting thread
These are silhouette scissors from PAUL, a long-established German scissors manufacturer.

They can be used as scissors for handicrafts, mainly for cutting thread. They can also be used to cut cloth and paper.
Perfect for delicate work
These scissors feature a thin, pointed cutting edge. Use them for embroidery, patchwork, and other small parts, or for detailed work. It is also recommended for complicated paper cutting.
Compact size
Measuring 11.5 cm in length, these thin and slim scissors are not bulky in your sewing box. If you are careful with the sharp tips, you can use them as scissors for carrying around. The inner diameter of the ring is 1.8 cm, so please be careful if you have thick fingers.
Specification
Length (cm):
11.5 (total), 3 (blade)
Material:
Stainless steel
Weight:
17.0 g
Country of origin:
Germany
About PAUL
PAUL was founded in 1886 in Solingen, a city famous for its cutlery. The company's products, which emphasize functionality, ergonomics, and craftsmanship, are now loved in more than 70 countries. The symbol mark is a silhouette of scissors.
Delivered to You from Japan
We've been a trusted specialty store for left-handers in Japan since 2018. We ship top-quality tools to our left-handed friends all over the world.