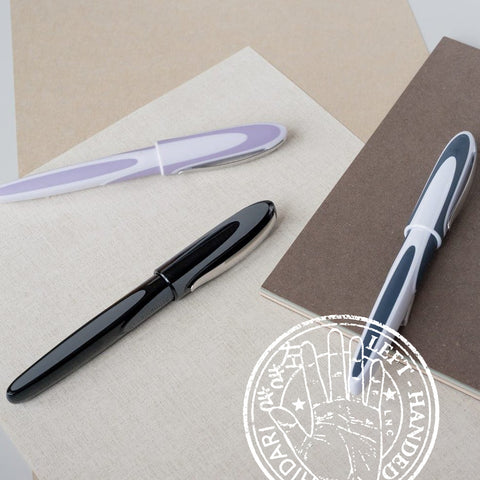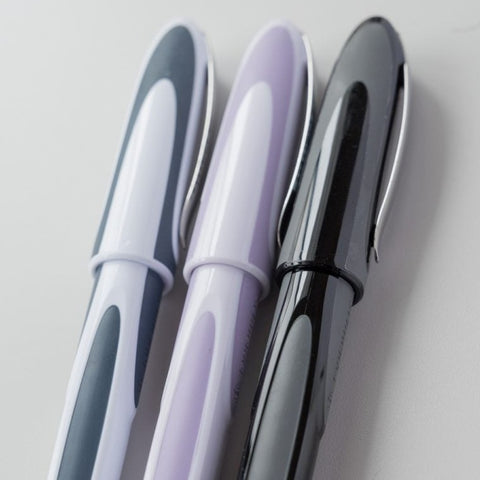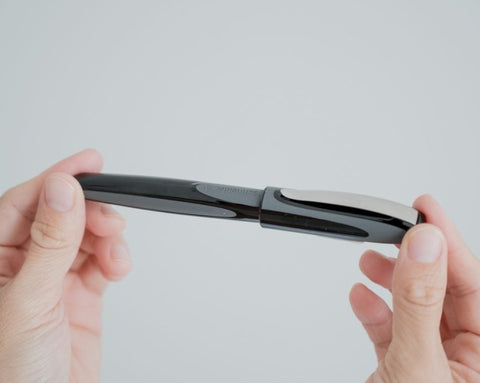 HIDARI
Schneider Ray fountain pen, left-handed
Fountain pen with a resilient nib, for left-handed users
Left-handed Ray fountain pen from the German stationery brand Schneider.
The nib, made of stainless steel, is more elastic and flexible than Base pen. We recommend this for those who prefer a softer writing touch.
Ergonomically designed for left-handers
The design of the cap and body are integrated and streamlined. The rubberised grip is ergonomically shaped to fit comfortably in a left hand.
The nib is fine-tuned to prevent snagging when writing with the left hand.
The line thickness is equivalent to M (medium). Compared to the Schneider "Base" pen, the nib is slightly thicker, which leads to a higher ink flow.
We recommend this pen for quick note-taking and illustrations. It may be difficult to write small letters or write in compressed space.
Three colors are available
The bi-chromatic design has a futuristic and sporty look.
It is available in three colors: onyx, white with dark gray accents, and lavender.
One cartridge ink included
One blue cartridge ink is included.
When you swap ink colors, make sure to clean the nib with water.
If you would like to purchase additional ink cartridges, please click here.
For those who prefer to use bottled ink, we also have converters available.
Specification
Length: 142 mm
Shaft diameter: 12 mm 
Cap diameter: 18 mm
Weight:
21.0 g
Material:
Plastic, Iridium
Country of origin:
Germany
About Schneider
Schneider is a German writing instrument brand that has been in business for over 80 years. With the motto "Stationery for everyday use", Schneider has continued to develop and manufacture products only in Germany in order to guarantee their high quality.
Delivered to You from Japan
We've been a trusted specialty store for left-handers in Japan since 2018. We ship top-quality tools to our left-handed friends all over the world.